9th January
Under Construction Website Templates for Free
---
Every website needs maintenance once in a while. Whether you are changing the design or recode the entire site, don't leave your clients with errors or not found the page and use an under construction page instead. Let everyone know what your website is going through and when will it be online to get some leads or drive the traffic to social accounts of your project.
The under construction templates let your visitors understand why your site is down with a clear title and description. Subscription form and social media links will provide an opportunity for visitors to stay in touch and a countdown timer will let them know when the website is going to be online again. You can also add a logo and choose a background from the images library to make yours under construction page really outstanding.
Helmet
Helmet is a bright and simple template that will tell your visitors that work is in progress right now. It comes with subscription form and down count timer that can be used on your under construction page.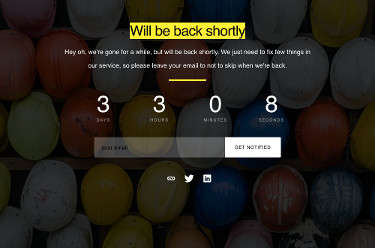 Dash
Dash is a strict and simple template with tricky animation on a subscription form. It looks good with a wide down counter timer, and can be completed with your logo and custom background.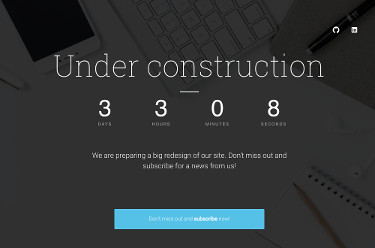 Chameleon
Chameleon is a tricky template with a down counter, subscription form and animated background that is full of colors.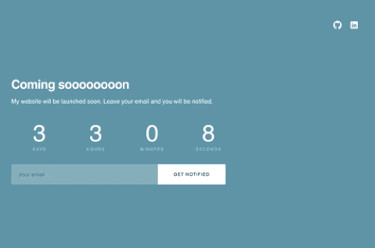 Choose a template and create a under construction page in a minutes without a single line of code. Also, don't forget to use extra features like built-in visits analytics, domain parking, and third-party integrations.
---
Related posts
Create your coming soon page today.
Build your coming soon page for free - No credit card required.