Coming Soon Page Builder
Build and launch your coming soon or under construction page
in a few minutes without coding.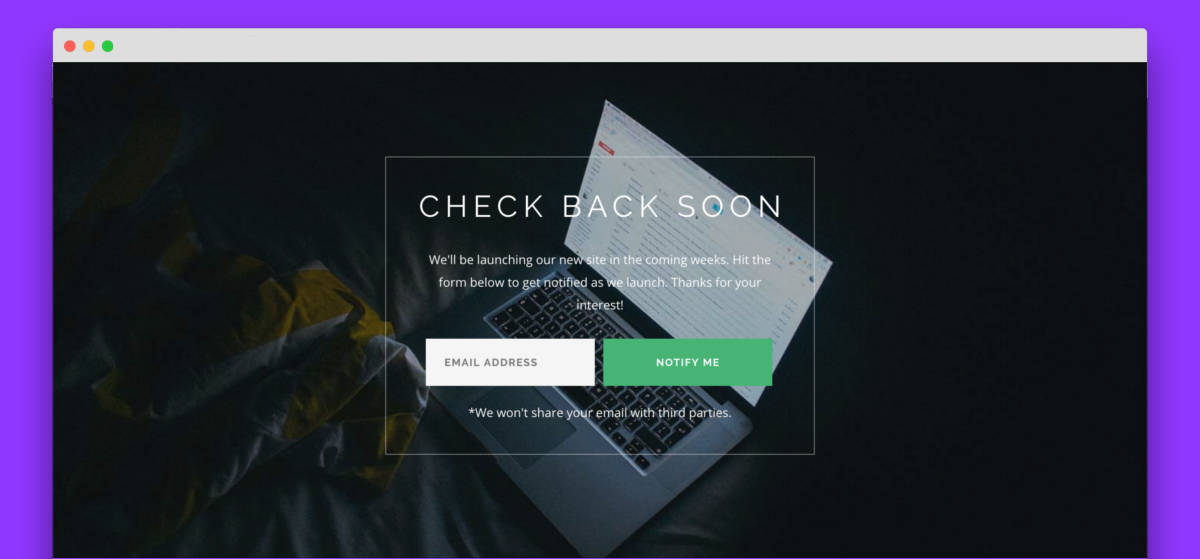 Create a coming soon page for your website and start marketing before you launch
All you need to do is to choose design, fill form with details of your product or service and your website is ready for visitors.
No integration hustle
You don't need to install analytics tools or integrate subscription forms, you are ready to go from the beginning
All needed features in one box
Get hosted coming soon page, analytics and subscription list in a few minutes
Try out our constructor
Choose a template and fill your data
Create your website
Create your website in a few minutes, just choose design and fill one form
Park you domain
Park your domain to coming soon page easily
Collect leads
Add subscription form to your website clicking one checkbox and collect leads without integration with subscription platforms
Watch the traffic
Get statistics about your website visits, devices and referrers
Free plan
$0
Per Month
Get Started
Free page builder
Host on your own server
No credit card required
Pro plan
$3
Per Month
Get Started
No hosting needed
Park your domain
Collect leads
Visits analytics
Use integrations
400+
Pages created
10,000+
Visits generated
Create your coming soon page today.
Build your coming soon page for free - No credit card required.